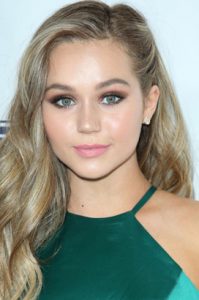 Brec Bassinger recently had her career beginnings in 2013. She debuted playing the role of Zoe Macintosh on the television series The Goldbergs. She next landed the part of Emma, a recurring character on the TV show The Haunted Hathaways. From 2015 to 2016, she became further known for her lead role as Bella Dawson on the Nickelodeon series Bella and the Bulldogs. During this period, she also had a role in the TV movie Liar, Liar, Vampire.
From 2016 to 2018, she played a recurring part as Kale on another Nickelodeon show School of Rock. Following this, Bassinger made her cinematic debut in the film Status Update. She also played Roni on the web series All Night. This year, she guest-starred in an episode of The Loud House. She will star in the upcoming film 47 Meters Down: Uncaged. Recently, it was announced that she landed the lead part of Courtney Whitmore / Stargirl in the upcoming web series Stargirl, which will premiere in 2020.
The young actress was diagnosed with diabetes at a young age. Of course, part of managing the condition is to practice a healthy lifestyle. That's why Bassinger has been eating healthily since her diagnosis. Nonetheless, she's still a foodie so she allows herself to have something she craves for every now and then. She thinks it's important to let herself enjoy desserts once and other indulgences in a while.
"When I was younger, I'd have a very "unhealthy" meal and people would laugh that I was eating such an unhealthy meal with diabetes, and I said, "Exactly!" I think it's important that we can sometimes go out and eat a dessert — especially being this age being able to do that," said the actress. Normally, though, the Brec Bassinger diet plan is one the consists of lean proteins, whole grains, complex carbs, healthy fats, and plenty of fruits and vegetables.