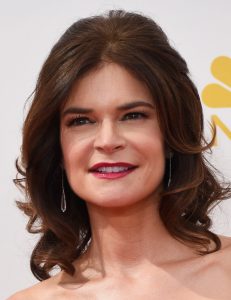 Hollywood star Betsy Brandt debuted in the 2001 film Memphis Bound and Gagged. That same year, she appeared in an episode of Judging Amy. She later made guest appearances in JAG, ER, Without a Trace, The Guardian, NCIS, and The Practice. In 2004, she had a role in the film Shelf Life. After guest roles in CSI: Crime Scene Investigation, Close to Home, and Boston Legal, she was cast as Marie Schrader in the AMC series Breaking Bad.
The show was critically successful, airing on television from 2008 to 2013, garnering Brandt substantial success as an actress. While on the show, she had performances in the films Jeremy Fink and the Meaning of Life and Magic Mike. She also played Joanna Gibbs in Private Practice and Sandy in Parenthood. After Breaking Bad, the actress starred as Annie Henry in the NBC sitcom The Michael J. Fox Show.
Following this, she played recurring character Barbara in Masters of Sex. She went on to star as Heather Hughes in the CBS sitcom Life in Pieces, which aired from 2015 to 2019. More recently, she also had supporting roles in the films Between Us, Claire in Motion, and We the Coyotes. She will star in the upcoming horror feature Run Sweetheart Run.
The 46-year-old actress stays in shape by following a clean diet plan. At her age, she rarely eats processed. Her diet typically consists of fresh, whole foods that are packed with nutrients. Nevertheless, her diet doesn't involve her starving herself. She eats whatever she wants and she keeps it balanced through moderation. In the morning, it's usually scrambled egg, oatmeal, or whole-grain cereal for her with almond milk, as well as some fruits on the side. For lunch, its lean meat like fish and chicken with salad. It's basically the same thing for dinner, except that she keeps it lighter. Once in a while, she enjoys dark chocolate and some other desserts.