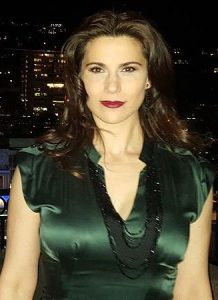 Hollywood star Milena Govich professionally debuted as an actress in 2004. Her first acting work was in a short film. She next made her first television appearance in an episode of Law & Order. At the same time, she landed her first recurring role as Candy on the FX series Rescue Me. During this period, she also guest-starred on the TV shows Love Monkey, K-Ville, and Psych. She also became known for her starring roles as Jessica Rossi on Conviction and Det. Nina Cassady on Law & Order.
In 2009, she made her film debut in the independent feature Sordid Things. She continued her career in the 2010s, performing in the movies A Novel Romance, Lucky N#mbr, and Pass the Light. Simultaneously, she had guest appearances on The Defenders, Body of Proof, Make It or Break It, and The Mentalist. Her most recent work on television was as Lori Stevens on the MTV series Finding Carter, which she played from 2014 to 2015 as a recurring character.
Being a trained dancer, the 42-year-old actress knows how to stay in top shape. Aside from her healthy diet plan, she makes sure she sticks to an active lifestyle with lots of exercises to get her started. "Working out is something I really enjoy – the key is to do lots of different things," said the actress. It was reported that she trains six days a week at an athletic complex where she also studies martial arts. Moreover, her workout routine mainly consists of cardio and strength training. When her schedule gets crazy that it's tough for her to hit the gym, she turns to yoga and Pilates as her go-to fitness regimen. "Yoga and Pilates get my heart up and keep me stretched," revealed the Law & Order star. Wanting to try a variety of exercises, she also attends Tai Chi classes.