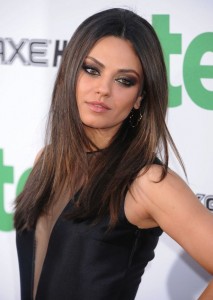 The Ukraine-born actress Mila Kunis is one of the most remarkable celebrities in Hollywood. She achieved stardom in her teens after landing the part of Jackie Burkhart in That '70s Show, which she played for several years and made her a household name among television viewers. As a movie star, her break came when she starred in the romantic comedy Forgetting Sarah Marshall in 2008. Since then, she's had starring roles in Max Payne and The Book of Eli.
Coming from a comedy show, Mila is highly notable for her great performances in the romantic comedy Friends with Benefits and Ted. In 2010, she was recognized as a high-caliber actress for her performance in Black Swan, which got her a Golden Globe nomination for Best Supporting Actress. Her most recent movie is 2015's Jupiter Ascending. Unlike other actors that follow a very strict diet plan, Mila is more relaxed when it comes to what she eats. She admits how important it is for her to enjoy food that's why she's open to consuming some junk and processed foods.
But for her role in Black Swan, she was required to lose 20 pounds, obliging her to follow a disciplined eating habit. At the time, she was careful of what she eats and had a controlled intake of calories. After the movie, she resorted back to her original eating habits and gained 25 pounds again. However, moviegoers noticed her looking lean and slim again in the 2011 movie Friends with Benefits.
It's because she also worked out and dieted for the role. Her diet consisted of carbs, proteins, and essential fatty acids. She also exchanged high carbohydrate foods with low carbohydrate ones to help her lose weight and keep her fit. For instance, instead of eating cereal, she eats oatmeal. She also swapped biscuits for nuts and milk chocolates for dark chocolates.