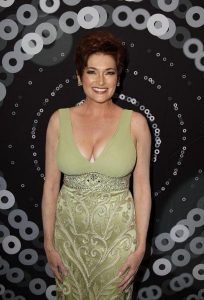 It was in 1992 that actress Carolyn Hennesy began her professional career. She debuted as with a small role in the movie I Don't Buy Kisses Anymore. She next appeared in the film Lightning in a Bottle. On television, she had one-time roles in the TV shows Dark Justice, Grace Under Fire, Night Stand with Dick Dietrick, Wings, and Party of Five. Hennessy's first recurring role was as Chase Gardner in the NBC sitcom Jenny.
In the 2000s, she played Mrs. Valentine in Dawson's Creek. Later, she played small roles in the films Terminator 3: Rise of the Machines and Legally Blonde 2: Red, White & Blonde. She went on to have roles in the movies Click, Sublime, Cougar Club, and Necessary Evil. During this period, she starred in some straight-to-video films as well.
She gained wider recognition after getting the part of Diane Miller in the soap opera General Hospital. She has been playing the said role since 2006. Simultaneously, the actress played recurring roles Barb in Cougar Town and Mrs. Rhoda Chesterfield in Jessie. Currently, she's the voice of General Leia Organa in Star Wars Resistance. Her latest performance on film was in 2019's The Swing of Things.
Apart from a healthy diet plan, the actress maintains a toned figure by sticking to a healthy lifestyle. Being a full-time actress with a regular gig on television, being active has since been part of her lifestyle. She's always out and about, which only equates to lots of movements. Of course, she also works out — not as consistently as she wants to be but she tries her best.
She also doesn't limit her routine to gym exercises. For instance, she enjoys trapeze lessons and considers it a great workout. "I've found that if you can stand on a 12×48-inch platform with two other people already on it and hurl yourself up into the air 25 feet above the ground, you can pretty much do anything that's ever asked of you… anywhere," said the actress.