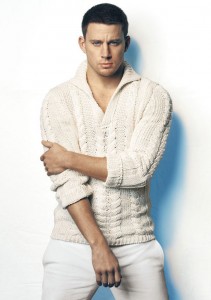 Channing Tatum is certainly the combination of cute and sexy. Before becoming a big international star, he appeared in a few movies in the mid 2000s before making his breakthrough in Step Up in 2006 with Jenna Dewan, who he later married. In the following years, he cemented his Hollywood fame through starring roles in a couple of movies like Battle in Seattle and G.I. Joe: The Rise of Cobra. He also performed in a few romantic dramas, including Dear John and The Vow.
He then went back to dancing when he starred as the lead in Magic Mike, based on his experiences as a stripper way back. Ever since, the 35-year-old actor has been nicely buff, mainly due to the fact that he's a dancer, which helps his body tremendously. Now, he appears to be even leaner and bigger. Because he has starred in a lot of action movies, it's only appropriate that he works out harder to achieve his present appearance, not only for the sake of looking good but for being fit and healthy, too.
With his muscular body, it is apparent how the actor maintains a workout regimen to make sure his body gets all the physical activities it needs. The actor works out four times a week, during Mondays, Wednesdays, Fridays, and Sundays. He mostly warms up by alternately running on treadmill and using an elliptical trainer, both lasting for 10 minutes.
Afterwards, he does Inclined Press (4 sets, 8 reps), Wide Grip Bar Dips (3 sets, 12 reps), Weighted Chins (4 sets, 8 reps), Bent Over Barbell Row (3 sets, 10 reps), Weighted Lower Back Extensions (3 sets, 10 reps), and does 4 sets of sprint for 30 seconds. He does all this routine on Mondays and Fridays. During Wednesdays and Sundays, he does Seated Dumbbell Shoulder Press (3 sets, 8 reps), Dumbbell Side Raise (2 sets, 13 reps), Dumbbell Rear Delt Raise (2 sets, 13 reps), Dumbbell Curls (3 sets, 13 reps), Overhead Tricep Rope Extensions (3 sets, 18 reps), Weighted Cable Crunches (3 sets, 15 reps), and Side Plank (3 per side).