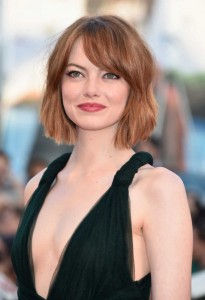 27-year-old actress Emma Stone is one of Hollywood's most likable celebrities. It has probably something to do with her natural knack for performing greatly in comedic films like Superbad and Easy A, the latter of which earned her critical praise. In the 2010s, she was recognized as a talented dramatic actress for her performances in The Help and Birdman or (The Unexpected Virtue of Ignorance), the latter of which got her an Academy Award nomination for Best Supporting Actress.
She even ventured into Broadway when she made her debut in the musical Cabaret in 2014. Her performance on the show also won her critical acclaim. This just shows that as years go by, Emma becomes more experienced as an actress and stands out not only in comedy films, but also in dramatic features. Internationally, she is best known for playing Gwen Stacy in The Amazing Spider-Man film series with her real-life boyfriend Andrew Garfield.
Ever since starting a Hollywood career, Emma has maintained a slim physique. Her slender figure is one of her trademarks. She doesn't seem to gain weight. Interestingly, the actress doesn't believe in fad dieting and claims she eats whatever she wants. In an interview about her body and dieting, she said: "I would be crazy to sit here and tell you that I have never thought about it. But, I never can beat myself up about it. I definitely am not restrictive. You are a human being, you live once and life is wonderful, so eat the damn red velvet cupcake."
Though it is not known what her diet plan is, it was reported that Emma drinks at least 7 glasses of lemonade everyday. Even though she doesn't engage in a strict dietary regimen, The Amazing Spider-Man actress is fit and healthy, despite rumors of an eating disorder after people have noticed how thin she's become recently.