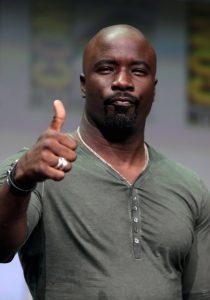 Hollywood star Mike Colter got his beginnings when he debuted on the show ER. His first film appearance was in 2004's Million Dollar Baby. The rest of the 2000s saw him appear in the movies Brooklyn Lobster and And Then Came Love. He also starred on the made-for-television films Silver Bells and Taking Chance. During this period, he had guest roles on the television shows Law & Order: Trial by Jury and Law & Order: Criminal Intent. As an actor, he achieved greater success in the 2010s.
He first portrayed Lemond Bishop on The Good Wife, playing the said role recurrently from 2010 to 2015. At the same time, he played Malcolm Ward on Ringer, Nick Donovan on The Following, David on American Horror Story: Coven, Agent Jameson Locke on Halo: Nightfall, and Miles Lathem on Agent X. He later became further known for his role as Luke Cage on Netflix's Jessica Jones. He later reprised his role on Luke Cage where he plays the titular character. He also reprised his role on the limited series The Defenders. He also recently acted in the movies America Is Still the Place, Girls Trip, and Extinction. He will play Daryle Lamont Jenkins in the upcoming movie Skin.
The actor has a vigorous workout routine but he also admits that keeping it consistent can be challenging considering his crazy schedule. "I'm not training like I'd like to — I'm basically training when I can. Ideally, I like to train hard. But that's not my life," he said. He continued: "Today's a workout day, but I don't know when I'll work out again, because tomorrow my day is full." Nonetheless, he tries his best to be productive in the gym.
His go-to workout routine when time becomes short? "A circuit of shoulders, lunges, bench press, leg press, and squats", that's according to him. He also talked about the importance of stretching. He said: "The first thing I want to do is skip the stretch because I'm usually in a rush. But ultimately, it's one one of the most important parts. It doesn't take that long to get a good stretch. But people skip the stretch."