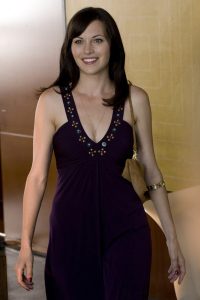 Actress Jill Flint got her professional acting beginnings when she debuted as an extra in the independent film Garden State in 2004. She next made her television debut in an episode of Law & Order: Trial by Jury. Following this, she appeared in three episodes of Conviction as Lisa Sandorff. She also played recurring character Lisa Crane on Six Degrees, as well as played Bex on Gossip Girl. After this, she starred Kate O'Toole in the independent movie On Broadway. Her next film roles were in The Women, Cadillac Records, and How I Got Lost.
She became further known for her role as Melissa Greenfield on Nurse Jackie and Lana Delaney on The Good Wife. She also gained recognition for her role as Jill Casey on Royal Pains. In the 2010s, she guest-starred as Simone Sands on Mercy and played a small role in the film The Amazing Spider-Man. From 2014 to 2017, she achieved further success on the small screen as Dr. Jordan Alexander on The Night Shift. Simultaneously, she played Diana Lindsay in 4 episodes of Bull. She has also guest roles on CSI: Miami and Elementary.
The 40-year-old actress stays in shape by following a healthy lifestyle. This basically means she eats a clean and well-rounded diet on a regular basis. Being in her 40s, it is crucial for her to be healthier in her food consumption. With this, she tries her best to avoid processed foods, which usually are the ones loaded with calories, sugar, and fat. She sticks to food items rich in fiber and other vitamins and minerals. She also consumes lean protein from chicken and fish, as well as whole grains from oatmeal. In addition, she incorporates fruits and veggies into her meals all the time. She does indulge her cravings but she does not over-eat. She practices moderation always.