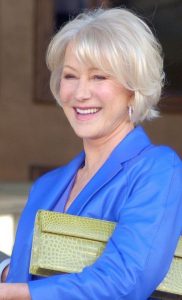 Acclaimed actress Helen Mirren first appeared as an extra in the 1966 film Press for Time. Her first notable role was her portrayal of Hermia in 1968's A Midsummer Night's Dream. In the 1970s, she gained recognition for her performances in the films Miss Julie, Hamlet, and Caligula. The following decade, she starred in the movies Excalibur, 2010, and Heavenly Pursuits, among others.
In the 1990s, she became known on television for her role as Jane Tennison in Prime Suspect. Also, she portrayed Queen Charlotte in the film The Madness of King George, as well as starred in The Hawk, The Snow Queen, The Prince of Egypt, and Teaching Mrs. Tingle. Mirren garnered wider popularity in the 2000s, mostly for her notable performances in the films Gosford Park, Raising Helen, The Hitchhiker's Guide to the Galaxy, The Queen, National Treasure: Book of Secrets, State of Play, and The Last Station.
More recently in the 2010s, the veteran actress starred in such movies as RED as Victoria Winslow, Hitchcock as Alma Reville, Maria Altmann in Woman in Gold, Hedda Hopper in Trumbo, and Sarah Winchester in Winchester. This year, she played Magdalene "Queenie" Shaw in the action film Hobbs & Shaw. As of 2015, she hosts the television program Documentary Now!
Already in her 70s, Helen Mirren manages to maintain a fit body by being consistent in her exercises. In an interview, she got candid about her workout routine. "I do 12 minutes of exercise a day, it's called the Royal Canadian Air Force Workout and it's really good," said the actress.
"I do a thing that leads me into exercise. It is the Royal Canadian Air Force exercise plan; it is 12 minutes and they have charts you follow… Each day, you have to do the exercises within the 12 minutes and until you can, you can't move up. It is the exercise I have done off and on my whole life. It just very gently gets you fit. Two weeks of doing that and you think: 'Yeah, I could go to the gym now.'"