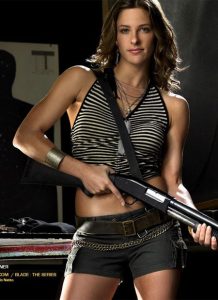 Actress Jill Wagner had her career beginnings in the early 2000s. She made her big screen debut in the movie Jill Wagner and spent her initial television career playing guest roles. She got her first starring role in 2006 with the show Blade: The Series. From 2008 to 2011, she rose to fame as the host of the game show Wipeout from seasons 1-4. She returned as the show's host for its seasons 6-7 in 2013.
Also in the 2010s, she became known for her role as Kate Argent in the MTV series Teen Wolf. She even appeared as the host of the short-lived show Inside the Vault. More recently, she starred in a couple of Hallmark made-for-television movies. She also currently hosts the show Handcrafted America since 2015. In addition, she's also had roles in the films Splinter, Road to Paloma, and Braven.
The actress and television host maintains her svelte physique by eating well. Aside from her workout routine, the celebrity also stays in shape by following a clean and nutritious diet plan. She totally understands the importance of proper nutrition when it comes to maintaining a healthy weight. Of course, you can't expect to be fit and healthy just by working out. You also need to consume healthy foods. That's what Jill Wagner exactly does. For one, she eats healthily every single day.
"I eat a salad every single day. I also have been doing the juice "thing" after every workout, and I try to drink a half-gallon of water a day," she said. Even her snacks are healthy. When asked what her go-to snacks are, she answered: "Greek yogurt with berries. It's high in protein and full of antioxidants for muscle recovery. I also am into freeze-dried strawberries. I put them on yogurt and cereal and also eat them right out of the bag."