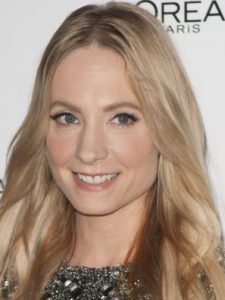 English celebrity actress Joanne Froggatt debuted on TV with a one-time role on The Bill. She next had her first starring role as Zoe Tattersall on the British soap opera Coronation Street. Afterward, she appeared as Rachel Hicks in 4 episodes of Bad Girls. She went on to pursue film as well, having her first role in 2002's Miranda. The rest of the 2000s saw her perform on television films and shows. She had performances on Paradise Heights, Island at War, and Life on Mars. On TV movies, she starred in The Stretford Wives, Danielle Cable: Eyewitness, See No Evil: The Moors Murders, and Murder in the Outback.
In 2009, she starred as Kate on the show Robin Hood. It was, however, in the 2010s that she became more famous courtesy of her role as Anna Smith, later Anna Bates, on the popular period drama Downton Abbey. She played the said part from 2010 to 2015. While on the show, she starred in the film In Our Name. For her performance, she won the British Independent Film Award for Most Promising Newcomer. She later had notable roles in the films Filth, uwantme2killhim?, Still Life, Starfish, A Street Cat Named Bob, A Crooked Somebody, and Mary Shelley. She'll reprise her role as Anna Bates in the film Downton Abbey.
The 38-year-old actress stays in shape by following a clean diet plan. "I try to eat healthily. I drink plenty of water and try to drink vegetable juices and/or eat plenty of vegetables," the actress said. "Like most people, I have good days and bad days. If I'm busy or traveling, it's sometimes hard to eat the right things, but I do feel better when I'm getting lots of vitamins and nutrients in my diet." As for her ideal food day?
"My ideal food day would be a yogurt and banana smoothie with seeds for breakfast, sushi for lunch, and a kale salad with roasted root vegetables, beetroot, and goat cheese for dinner with some dark chocolate for a treat," she confessed.