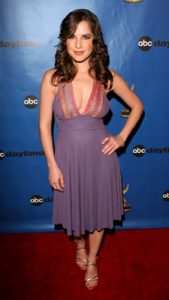 In 1997, actress Kelly Monaco debuted on the TV series Baywatch. Afterward, she made her first cinematic role as Sharon in the 1998 film BASEketball. She also landed a small role in the movie Welcome To Hollywood. The following year, she had performances in the films Idle Hands and Mumford, as well as acted in the made-for-television film Late Last Night.
In the 2000s, she starred as Livvie Locke in the ABC soap opera Port Charles, which she played from 2000 to 2003. At the same time, she appeared in an episode of Spin City. After Port Charles, she landed the part of Sam McCall on the soap opera General Hospital, which she began playing in 2003. She portrays the character up to the present.
While on the show, she also appeared on other shows. This includes her stint in Dancing with the Stars. She was a contestant on the show on seasons 1 and 15 and was the first season winner of the show. In 2011, she joined the main cast of the show Dirty Soap, as well as starred in the TV movie The Edge of the Garden. In 2015, she appeared as herself in the sitcom Baby Daddy.
Not only does Kelly Monaco eat healthily, but she also exercises on a regular basis to stay on top shape. In an interview, she got candid about her workout routine. "My workout regimen varies," said the celebrity. "I do everything from the gym to yoga to cardio classes, hiking, and swimming. I'm pretty active. I'd rather stay outdoors than be cooped up."
Of course, being a professional dancer helps her maintain her fit body a great deal since she always finds herself moving around and having fun at the same time. "Dancing is such a good form of exercise, and you don't feel like you're exercising," she shared.