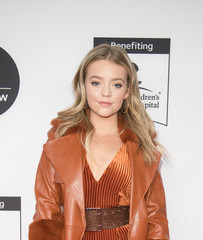 Hollywood star Jade Pettyjohn started her entertainment career in 2008, playing the part of Julie Sands in one episode of The Mentalist. A few years after, she landed more guest appearances on the small screen. She guest-starred in United States of Tara, Criminal Minds: Suspect Behavior, and Grimm. In 2012, she starred in the TV movie An American Girl: McKenna Shoots for the Stars, as well as played a recurring character in NBC's Revolution.
After this, she got the part of Ava Tophet in TNT's The Last Ship. Soon, she made her cinematic debut in the 2014 feature film Dakota's Summer playing the role of Summer Jennings. After playing Chloe Hartman in some episodes of Henry Danger, Pettyjohn landed the main role of Summer in Nickelodeon's School of Rock. During this period, she has also appeared as herself in some Nickelodeon TV specials.
Following the end of the show, she had performances in the films Destroyer, Trial by Fire, and Seberg. Also, she starred in the television movie Deadwood: The Movie. She next played Dot Nancy in some episodes of The Righteous Gemstones. She then ventured into voice acting, starring in the animated miniseries Middle School Moguls. This year, she starred as Lexie Richardson in the miniseries Little Fires Everywhere.
Jade Pettyjohn wants to follow a healthy lifestyle so she makes efforts to eat clean and exercise. While she understands the importance of a healthy diet, she also makes sure that she doesn't feel restricted when it comes to food. Being young, she's a foodie who enjoys her every meal. She tries to be health conscious but she never puts herself in strict diets.
In an interview, she shared about how she gets spontaneous with her lifestyle. "My friends and I have this diner where we usually go very late at night to order breakfast. I think breakfast-for-dinner is iconic teenage food. You get the eggs, the pancakes, the waffles, and the coffee—and you're up all night because of the coffee, but it's worth it," said the actress.