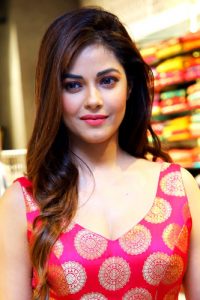 Meera Chopra's career in India started with the 2005 Tamil film Anbe Aaruyire. The following year, she starred in the movie Bangaram, which marked her Telugu debut. In the next few years, she gained attention for more roles in South India. Among her works were the Tamil movies Jambhavan, Lee, and Marudhamalai.
She also made a special appearance in the feature Kaalai, after which she starred in the Telugu film Kaalai. In 2008, Chopra made her Kannada debut in the movie Arjun. This was followed by a role in another Tamil film Jaganmohini. After a couple of years of hiatus, Chopra returned to the screen in 2013. During this year, she starred in the Telugu films Maaro and Greeku Veerudu.
She ultimately pursued a career in Bollywood when she debuted in the 2014 Hindi film Gang of Ghosts, playing the role of Tina Chopra. After performances in the Tamil movies Isai and Killadi, she starred as Shivangi in Bollywood's 1920 London. In 2017, she played the role of Priya in the English-language movie One. She went on to star in the Hindi film Section 375. Chopra's latest work in the cinema was in the 2021 Bollywood movie Nastik.
When it comes to her diet, Meera Chopra prefers to be as healthy as she possible could. This means avoiding processed snacks and unhealthy meals, but not to the point of depriving herself. She stays fit and healthy by following a clean diet plan that consists of whole, nutritious foods. Trying any strict or intense diets is also a big no-no for her.
She doesn't aim to be super skinny but she wants to maintain a healthy body, which she achieves by having a balanced meal and keeping her exercise routine regular. "Eat healthy, stay healthy.. stay away from fancy diets they only harm your body!" said the actress.