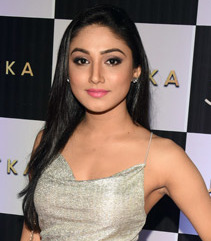 Indian actress Donal Bisht started her professional acting career in 2014. She first appeared as a minor character in the television program Chitrahaar. After this, she joined the main cast of the soap opera Kalash – Ek Vishwaas where she played the role of Sakshi Deol. She then landed the part of Sharanya Bisht in the romance-thriller series Ek Deewaana Tha, which she starred in from 2017 to 2018.
Subsequently, she guest-starred in the TV series Laal Ishq. She came to wider prominence for her role in the television show Roop – Mard Ka Naya Swaroop. In the show, she played the main character of Ishika Patel. Her most recent work on the small screen was in the TV drama Dil Toh Happy Hai Ji where she played the role of Happy Mehra.
Donal Bisht follows a healthy diet plan to stay fit. She mostly avoids unhealthy, processed foods. Instead, she opts foods that are high in nutrients. She observes a clean diet plan not only to maintain her slender figure, but to also strengthen her body. In an interview, the actress got candid about her preferences in food for breakfast, lunch, and dinner.
"I start my day with coconut water, followed by some delicious aloo parathas. I concluded my breakfast with a cup of hot coffee," said the actress. For her lunch, she said she always has "a bowl of fresh dahi". She added: "I had freshly cut vegetable salad as well, which consisted of cucumber and carrots."
She loves to have a sandwich for a quick evening snack. As for her dinner meal, she tries to eat light. "I keep my dinner a bit light. Planning to have a nice hot vegetable soup," she said. The actress also prefers coffee over tea and fresh juice over soda.