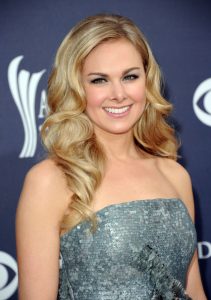 Hollywood actress and singer Laura Bell Bundy debuted in 1993 with the film The Adventures of Huck Finn. She next appeared in the movies Life with Mikey and Jumanji. On TV, her first role was in an episode of Home Improvement. In the 2000s, she first played recurring character Marah Lewis in the soap opera Guiding Light. The rest of the 2000s saw her perform in a few TV films. She also guest-starred in Veronica Mars, Modern Men, and Happy Hour.
During this period, she landed supporting roles in the films Surf School, Dreamgirls, and The Drum Beats Twice. In the 2010s, she appeared as Becky in 5 episodes of How I Met Your Mother. At the same time, she also starred as Shelby in Hart of Dixie. She gained wider recognition for starring as Dr. Jordan Denby in the FX sitcom Anger Management.
Following this, she mostly landed one-episode roles in such TV shows as Angie Tribeca, Fuller House, Liv and Maddie, and American Gods. As for her movie roles, she had performances in Watercolor Postcards, After the Reality, and Beauty Mark. Bundy is also known for her work on Broadway. She starred as Amber Von Tussle in the musical version of Hairspray. She also played the original Elle Woods in the musical version of Legally Blonde.
The 38-year-old actress follows a gluten-free diet primarily because of her celiac disease. "I was allergic to milk, apples, peanuts and more," said the actress. She then gained weight and experienced severe stomach pains. She was diagnosed with the condition after seeing an allergist. She immediately eliminated wheat and gluten from her diet, causing her to lose 10 pounds.
Because of her condition, she makes it a point to always bring food with her. "So you had to make everything you wanted to eat," she said. "Now I always have a snack bag and bring my own food. I'll undoubtedly bring my own food because they won't have it." Plus, she also takes care of her healthy by avoiding processed foods, eating turkey, and drinking lots of green juice.