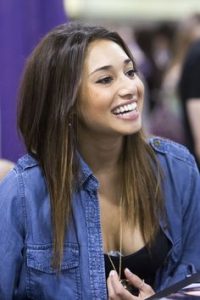 Canadian celebrity Meaghan Rath made her professional acting debut in 2001's Lost and Delirious. There, she played a minor character. She next guest starred on the TV series Fries with That? and acted on the TV miniseries 10.5: Apocalypse. She later joined the main cast of the short-lived show The Assistants. In the 2010s, she starred on the TV movie Cyberbully. She then became known for her role as Sally Malik on the TV series Being Human. Afterwards, she had recurring parts on New Girl, Banshee, and Secrets and Lies. After starring on Cooper Barrett's Guide to Surviving Life, she now stars as Tani Rey on Hawaii Five-0.
The 31-year-old actress maintains her slender figure and healthy body by following a clean and a well-rounded diet. She understands the importance of nutritious eating and how it's able to keep her body not only lean but also strong, healthy, and protected. She does so by starting her day with a nourishing breakfast, which she revealed consists of "Half a grapefruit and a bowl of Kashi cereal with blueberries and bananas." She also added: "Cereal if my favorite thing in the morning because it's quick and easy. I love starting out the day with fruit, and bananas and blueberries are my absolute favorite, and they go so well with cereal and milk. And I always have a glass of steaming hot ginger tea."
For health reasons, Meaghan prefers eating whole-grain cereals. The actress also revealed that she's not following any specific diet. She's not particularly endeavoring to lose weight and get slimmer, she only wants to maintain her healthy body. She does this by opting for healthier foods and avoids junk and processed foods overall, most of the time. She also reminds herself to eat in moderation, especially if she's indulging in her cravings.