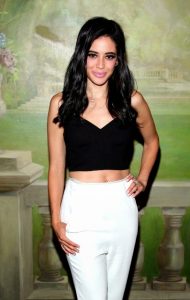 Hollywood star Edy Ganem had her career beginnings in the late 2000s. Some of her initial works include appearances on the TV shows Entourage and CSI: Crime Scene Investigation. She had also appeared in some B-movies in the beginning of her professional acting career. After guest roles on the TV shows The Cleveland Show and Rob, she gained mainstream prominence for starring on the TV series Devious Maids. She played the role of Valentina Diaz from 2013 to 2015. Simultaneously, she had also appeared in the movies After the Wedding, Ana Maria in Novela Land, and Tattooed Love. Aside from all these, the actress had also starred in a couple of short films.
The 28-year-old actress maintains her slender figure and fit body by following a healthy lifestyle. This basically means exercising regularly and practicing a healthy diet plan. She may just be in her 20s, but she's aware of how important healthy eating is, not just in terms of her weight, but also her overall wellness. Eating a clean and a well-rounded diet surely maintains one's slender figure. Another important thing it does is provide the energy, strength and immunity needed to live life more efficiently.
In order to achieve this, Edy stays away from unhealthy foods, which mostly are fast food meals, processed and junk foods. These mostly are loaded with high content of sugar and sodium, as well as unhealthy fats. She focuses on integrating nutritious foods into her diet every day. That's why she mostly has lean proteins, fiber-rich foods, whole grains, and fruits and veggies for their antioxidants. Though she's not following a specific diet, she keeps herself healthy by simply choosing healthy foods. Thus, sticking to the basics. Looking at her, it would seem following the basics is still a good thing. She also makes sure she only eats in moderation.