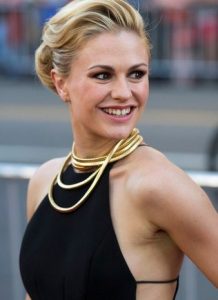 Anna Paquin is a Canadian-born actress who was raised in New Zealand. Her journey as an actress after being chosen to play a starring role in the movie The Piano when she was just a little girl. To get the part, she beat out around 5,000 candidates. The movie turned out incredibly great, and her acting performance in the film was also highly lauded. For this, she was nominated for an Academy Award for Best Supporting Actress when she was only 11. She has since received nominations for her roles in Fly Away Home, The Member of the Wedding, and A Walk on the Moon. As an adult, she returned to mainstream screen as Rogue in the X-Men films. More recently, she is best known for her role as Sookie on the HBO series True Blood. She has also been acclaimed for her roles in the TV films Bury My Heart at Wounded Knee and The Courageous Heart of Irena Sendler.
The acclaimed actress has been in the show business since she was a child and it's amazing as to how she has grown up to be consistently talented and was able to avoid any controversies despite spending her childhood in the entertainment industry. All throughout her career, Anna also managed to maintain her slender figure, looking not only fit but also healthy. Even now that she's a mother of two, the actress has seemed to gain back her original body. This is, of course, due to her focused and disciplined healthy lifestyle. Not only does she eat clean and healthy, she also works out as regularly as she could.
For her role as Sookie on True Blood, the actress showcased her perfectly toned figure all throughout the series. Although she is naturally sexy and is blessed with great genes, she also credits her flawless figure on the exercises and diet that she engages herself with. Normally, Anna works out with her husband Stephen Moyer. They do things together like going to the gym, biking, or boogie boarding. The actress does not also rely on only one kind of fitness as she combines things up, such as Pilates, boogie boarding, boxing, Bar Method, and running.