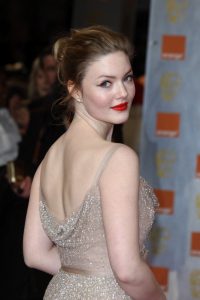 English beauty Holliday Grainger has had remarkable portrayals on television and film. She started her career on the small screen in the mid '90s. During her initial years, she had notable roles on All Quiet on the Preston Front and Roger and the Rottentrolls. She also appeared in a few TV movies. Her first significant role was on the TV series Where the Heart Is. She next had a recurring role on Waterloo Road. In the 2010s, she also became active on the big screen. She appeared in the movies Jane Eyre and Anna Karenina. She went on to play Estella Havisham in Great Expectations. Her starring role on the Showtime series The Borgias marked her US television debut. She starred as one of the stepsisters in Cinderella and recently starred in The Finest Hours and Tulip Fever. She will star in the upcoming My Cousin Rachel.
The 28-year-old actress is confident of her body and comfortable in her own skin. Though she acknowledges the importance of healthy diet and exercise, she doesn't obsessed herself with strict dieting and fitness routines like other actors and actresses. She doesn't allow herself to be affected by the pressures of achieving a certain figure. She loves food and enjoys eating. Strict dieting takes the pleasure from eating something that you like.
In an interview, she was noted saying: "Maybe all actresses should, rather than go, 'I've got a naked scene, I should get down the gym,' go 'I've got a naked scene, I need to eat a pie and not go to the gym so that people have to see my cellulite and then you can all get over it because we all have it.'" It doesn't mean that the actress is careless when it comes to her food choices. She still opts to eating nutritional ones, such as those rich in proteins, fiber and antioxidants.