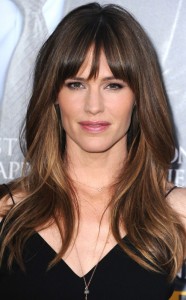 Former Alias actress Jennifer Garner is still the attractive and kick-ass heroine we once got to know on television. First performing on stage productions, she eventually transitioned to appearing on the small screen in the mid 1990s. After several years of appearing as a recurring character and a guest role, she finally got her break in 2001 after landing the notable character of Sydney Bristow in Alias. This breakthrough led her to land starring roles in cinema, such as in Daredevil, 13 Going on 30, Elektra, Catch and Release, and Ghosts of Girlfriends Past. She continued her success as a movie star with lead roles in Valentine's Day, Arthur, and Dallas Buyers Club.
Now a mother of three from her marriage to Ben Affleck, to whom she's currently separated, Jennifer still looks awesome. From her time doing Alias and playing Elektra, the actress has been required to look not only fit but also agile and strong. Because of her athletic figure, she was able to deliver amazing performances in the said movies and show. Aside from her regular work out routine, it is visible that the A-list star is cautious when it comes to her dietary regimen.
Interestingly, she has her meals every three hours and mostly eats homemade food as she enjoys cooking at home. The actress believes this guarantees that she receives sufficient nutrients. Also, Jennifer is not a fan of processed foods so she stays away from such as often as possible. To make sure she stays healthy with the food she eats, she mostly opts nutritious yet light foods like apples, strawberries, yogurt, oatmeal, egg whites, steamed veggies, grilled salmon, lettuce salad, almond butter, Kashi cereal, and soy milk incorporated into her meals. She also revealed that she's fond of sweets, but knowing it's not ideal to indulge to sugary foods too often, she practices moderation when eating her favorites.