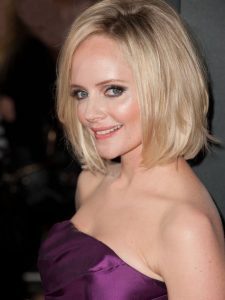 Hollywood star Marley Shelton had her career beginnings in 1990 where she debuted on the TV series The Family Man. She next had her first film role in 1991's Grand Canyon. She next had roles in the films The Sandlot and Hercules in the Underworld. Her first notable role was her portrayal of Tricia Nixon Cox in the acclaimed film Nixon. She later starred in the films Warriors of Virtue, Trojan War, and Pleasantville. She became further known for her roles in Never Been Kissed and The Bachelor.
In the 2000s, she became widely popular for her role as Diane Weston in the film Sugar & Spice. That same time, she starred in the movies Valentine and Bubble Boy. She went on to appear in the movies Uptown Girls, Sin City, American Dreamz, and The Last Kiss. She next starred in Robert Rodriguez's Planet Terror. She also starred as Rachel Young on the short-lived series Eleventh Hour. In the 2010s, she guest-starred on Mad Men and Harry's Law, as well as starred on the Lifetime show The Lottery. This year, she played Dr. Kerry Atkins in the film Rampage and appeared as Gail Mazzuchelli on the new series Rise.
The 44-year-old actress remains fit and slender thanks to her healthy diet plan. Basically, Shelton sticks to organic and well-rounded foods. Clean eating is something that she's very diligent about, simply because eating the healthily helps her feel great from the inside and out. For this reason, her diet mainly consists of complex carbs, lean proteins, and fiber-rich foods such as fruits and veggies. She stays away from processed foods and prefers homecooked meals. For a balanced diet regimen, she allows herself to indulge in her cravings from time to time, as long as she does so in moderation. Most of the time, though, she's as healthy as she can be.