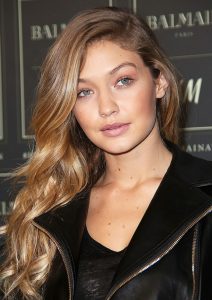 Gigi Hadid is an American fashion model whose career as a model began when she was 2. Her first major modeling job was with Baby Guess. She eventually stopped to focus on her schooling, only returning in 2011. By 2012, she was the face of a Guess campaign. By 2013, she signed with IMG models. She then made her New York Fashion Week debut the following year. She gained recognition recently as she was named "Model of the Year" by the Daily Front Row. She has since worked with such brands as Maybelline, Marc Jacobs, Chanel, and Michael Kors. She next made her Victoria's Secret Fashion Show debut in December 2015. She is also now staple on the covers of prominent international magazines.
Standing at 5'10 1/2, the 21-year-old actress is remarkable in her beauty and stature. Being a model, one would expect for her to have strict diet plans to maintain her thin frame. But Gigi actually adores a good burger. She just knows how to balance her eating habits. How does she do it? She drinks green juice. In an interview with Into the Gloss, she said: "New York is great for being healthy — I have a Juice Press right around the corner and I make my own food all the time. But burgers and fries are my weakness."
She even said that she would take a double cheeseburger over a tofu any day. She makes it work by working out as well. She said that "eating healthy and working out" are her biggest thing. She added: "Yeah, I think the biggest thing I always say is eat clean to stay fit, and then have a cheat day to stay sane." Of course, her cheat day mostly consists of burgers and fries! Of course, the beautiful model just takes it easy when eating her guilty pleasures. She always puts moderation in eating a priority, too.