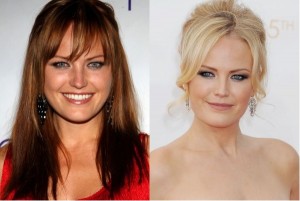 Early Life, Career, and Success on Film and Television
Malin Maria Åkerman was born on May 12, 1978 in Stockholm, Sweden though she was raised in Canada. She was introduced to modeling as a child, which her mother encouraged. Though she quit when she was 12, she became a model again when she was 16 after being discovered by Ford Models and by signed by them. This led her to land a contract with the company Noxzema and got her exposure on television through commercials.
After high school, she attended York University in Toronto. During this time, she was supporting her studies by appearing in commercials and catalogues. Her exposure on TV caught the attention of some people, resulting in her getting offered guest roles on television shows. She accepted initially thinking acting as another opportunity to help her pay for school but soon enjoyed the job that she decided to leave school and pursue acting full-time.
She became more active in the early 2000s, making her movie debut in The Skulls as a small character. Around the same time, she also appeared in one-episode roles in Relic Hunter, Twice in a Lifetime, Doc, and Witchblade and in the films The Utopian Society and Harold & Kumar Go to White Castle. In 2005, she gained notice for her role as Juna Millken in the HBO series The Comeback.
Further recognition came in 2007 for her roles in the movies The Brothers Solomon, Heavy Petting, and The Heartbreak Kid. Subsequently, she played a supporting role in 27 Dresses and a starring role (Silk Spectre II) in Watchmen, the latter of which earned her a Saturn Award nomination for Best Supporting Actress. She next starred in the romantic comedies The Proposal and Couples Retreat. In the 2010s, her prolific acting career continued with Wanderlust, Rock of Ages, CBGB, and recently, The Final Girls.
She also returned to television in 2010 after being cast for the role of Dr. Valerie Flame in Childrens Hospital, a role she still plays up to present. She went on to play a recurring character as Alex in Suburgatory. She was then cast for the lead role in the comedy-drama series Trophy Wife, though it was short-lived and only ran from 2013 to 2014. She now plays the role of Dusty Halford in the new series Sin City Saints.
Has Malin Åkerman had Plastic Surgery?
The Swedish-Canadian star has a fierce remarkable beauty that allows her to be in any kinds of movies, may it be romantic comedy, action, horror, and even musical. She's that talented. Because she's also known for her nude scenes in films like in The Heartbreak Kid and Watchmen, some are wondering if the actress has had plastic surgery to help her achieve her seemingly flawless body. Also, being in her late 30s, Akerman is noticeably finer and looks way younger than her actual age. Interestingly, the actress has already been suspected of going under the knife even before.
This is because her nose's bridge looks unnaturally slim and perfect, fueling reports of a rhinoplasty procedure. In the present, however, the former Trophy Wife star is being suspected of being a regular Botox user to maintain her wrinkle-free skin. Despite all these reports, the celebrity hasn't addressed the rumors nor has she said anything about her involvement with plastic surgery. Although it can be noted that after giving birth in 2013, she openly admitted to having cellulite on her stomach and buttocks and how she's considering to do something about it.