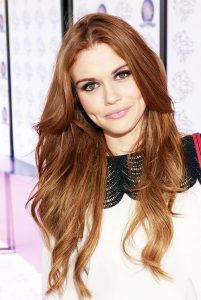 American beauty Holland Roden got her career start in the mid-2000s. During her early years, she worked in short films. She eventually landed guest roles on television starting with CSI: Crime Scene Investigation. She later appeared in the shows 12 Miles of Bad Road, Lost, Cold Case, and Criminal Minds, among others. Her first movie role was in 2009's Bring It On: Fight to the Finish.
From 2011 to 2017, she gained prominence for starring as Lydia Martin in Teen Wolf. The success of the series contributed to her flourishing career, especially on the small screen. While on the show, she made her cinematic debut in the movie House of Dust. She next starred in the low-budget film Cry of Fear. Recently, she played Bridget Cleary in an episode of Lore. This year, she played Zoe Woods in the new series Channel Zero: Butcher's Block.
The television star apparently has amazing figure. Suprisingly, her svelte figure isn't a result of strict dieting. According to the actress, she takes it easy when it comes to her diet. Unlike many celebrities, she doesn't follow any strict diet regimen. She allows herself to eat whatever she likes as long as there's moderation. She loves food and avoiding most of them would make her feel that she's being deprived. Feeling of deprivation could even make someone resort to binge-eating to satisfy intense cravings. Holland knows better than that.
For this reason, she doesn't put too much pressure on her weight. She doesn't trouble herself with feeling guilty after eating some of her favorites. On the other hand, she knows she still needs to apply balance. She knows she can't eat processed foods all the time. Hence, she makes sure that she incorporates healthy foods into her diet most of the time. She loves eating lean proteins, whole grains, fruits, and veggies.