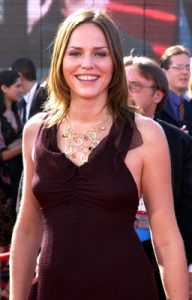 Hollywood actress Jorja Fox debuted in the 1989 film The Kill-Off. A couple years later, she landed a 3-episode stint on the TV series ABC Afterschool Specials, marking her first TV work. She next made guest appearances in Lifestories: Families in Crisis and Law & Order. Her first notable role on the small screen was as Officer Connie Karadzic in the crime drama series Missing Persons. Also in the '90s, she had performances in the films Dead Funny, The Jerky Boys: The Movie, How to Make the Cruelest Month, Velocity Trap, Forever Fabulous, and The Hungry Bachelors Club.
From 1996-1999, she also gained recognition for starring as Dr. Maggie Doyle in the NBC series ER. She started the following decade with a recurring role as Agent Gina Toscano in The West Wing. After that, she began playing the role of Sara Sidle in CSI: Crime Scene Investigation. It's her most famous and longest role thus far. She also appeared in the film Memento and had a notable guest appearance in Drop Dead Diva. In 2011, she had a role in the movie 3 Weeks to Daytona.
The television star takes care of herself by following a vegan diet. According to her, she has started taking on a plant-based diet since she was 19. This has also led her to work with PETA to promote veganism. "My passion and love for planet Earth and its creatures informs my surfing, my vegetarianism and the documentaries I produce. I love to be outside; I literally grew up in the ocean and am constantly thinking about when I can get back into the water. I have a boundless interest and love for the natural world," said the actress. When eating out, she loves dining at the "Native Foods and Veggie Grill for a quick meal". Fortunately, there are lots of vegan restaurants she can choose from. When she's not busy, she loves to prepare her own vegan meals.