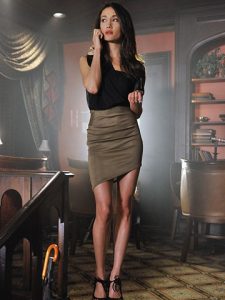 It was in 1998 that Maggie Q got her start as an actress in Hong Kong. She later made her cinematic debut in the Hong Kong movie Model from Hell and starred in the action feature Gen-Y Cops. She later starred in the film Naked Weapon, which was a hit in Asia. In 2004, she worked in her first Hollywood film production with the animated movie Around the World in 80 Days. She next played the titular character in the German-Singaporean TV film House of Harmony. Her first notable role in Hollywood was as Zhen Lei in the film Mission: Impossible III.
She next played Mai Linh in the film Live Free or Die Hard and Maggie Wong in Balls of Fury. Her next film roles were in the movies Deception and New York, I Love You. From 2010 to 2013, she rose to greater fame for her role as Nikita Mears in the television series Nikita. It aired on The CW for four seasons. Following this, she was cast as Beth Davis in the CBS series Stalker, which was canceled after only one season. Her recent work on the small screen was as FBI Agent Hannah Wells in the ABC series Designated Survivor. Also in the 2010s, she starred in the films The King of Fighters, Priest, Divergent and its sequels.
Aside from sticking to a vegan diet to stay in shape and maintain her overall health, Maggie Q also works out on a regular basis to remain fit. Playing tough characters who know how to fight, her action scenes alone can be considered a great workout. As a teenager, the actress was pretty much active. She was a member of cross country, track and field, and swim teams during her younger years. This is something she has brought with her even now that she's older and nearing her 40s. "I exercise every day and there's nothing I don't do. I run, I do yoga, I swim, I bike, I box. I love to box. I'm a huge boxer," she said.