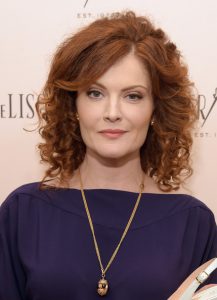 It was in 1996 that actress Rebecca Wisocky got her start in the entertainment industry. Her first acting role was in the low-budget film The Fountain of Death. After a few years, she landed her next movie role as Dorothy Seiberling in the film Pollock. She next appeared in 2 episodes of Law & Order: Criminal Intent. Later in the 2000s, she had performances in the movies Funny Money and The Picture of Dorian Gray. The rest of the decade saw her act as a guest star in numerous television shows.
In 2010, she played Principal Nowack in 90210. She next appeared as Brenda Shettrick in 9 episodes of The Mentalist, as well as played Lorraine Harvey in American Horror Story: Murder House. She later came to prominence in 2013 for her starring role as Evelyn Powell in the Lifetime series Devious Maids. The series ended in 2016. After its finale, she guest-starred in The X-Files and The Sinner. Additionally, she played the role of Lillian Rearden in the feature film Atlas Shrugged: Part I.
Television star Rebecca Wisocky is one of those celebrities in Hollywood who seem to be aging gracefully. What's her secret? According to her, it's just a matter of eating right and living an active lifestyle. Aside from sticking to a clean diet plan, the former Devious Maids star also works out as much as she could. In an interview, she was asked what her workout routine is. She said:
"I do yoga, biking and spinning. I hike and I've been getting back into running. I've committed myself to doing a leg of the triathlon in the fall, so I'm going to have to start running again." As for the type of yoga, she said she studies "with a teacher who practices Anusara yoga." She also stays generally active by taking long walks when doing errands.