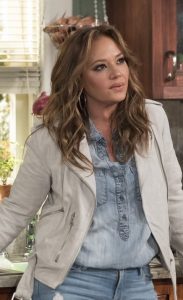 Hollywood star Leah Remini started her acting professionally in the late 1980s. She debuted on television with an appearance on Who's the Boss?. She later played Charlie Briscoe on Living Dolls. During the '90s, she starred as Tina Bavasso on The Man in the Family and played Stacey Carosi on Saved by the Bell. She next voiced the role of Sagan on the animated show Phantom 2040. In 1995, she starred as Dominique Costellano on the short-lived series First Time Out. After this, she played Terry Reynolds on Fired Up.
From the late 1990s to the 2000s, she became widely known for starring as Carrie Heffernan on the CBS sitcom The King of Queens. While on the show, she starred in the film Old School. After The King of Queens, she starred as Kim on In the Motherhood. From 2010 to 2011, she appeared on The Talk as one of the hosts. Subsequently, she played the lead on the short-lived show Family Tools. She even appeared on Dancing with the Stars as a contestant for Season 17. She continued her work on television with her role as Nikki Gardner on The Exes. Her latest role was as Vanessa Cellucci on the CBS sitcom Kevin Can Wait.
The 48-year-old actress stays in shape by sticking to a healthy diet plan. She's also very open about her struggle with her weight after giving birth to her daughter in 2004. During this period, she gained 80 pounds. With this, she also admitted that she tried many dieting tricks to help her shed pounds. Eventually, she realized they weren't any good. "I learned that you have to do something that works long term. I know it sounds trite, but you have to make a real commitment to yourself as a lifestyle change," she said. That's why the actress turned to a clean diet plan to help her lose weight. It was a hard and long process for her but that ultimately was the main reason why she's now looking slender and fit.