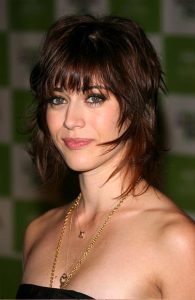 Lizzy Caplan is now a familiar name in Hollywood, thanks to her dedication and persistence as an actress. First gaining notice for her supporting role in Mean Girls as Janis Ian, she soon starred in other well-known movies, including the surprise hit Cloverfield, for which she was nominated for a Saturn Award for Best Supporting Actress. During the same period, she became more active on the TV, playing Amy on True Blood and starring on a few short-lived TV shows. Her lead role as Virginia Johnson opposite Michael Sheen on Masters of Sex brought her career into the next level, for which she was nominated for a Primetime Emmy for Outstanding Lead Actress. This gave her more opportunities on the big screen, starring in the controversial feature The Interview and the Now You See Me sequel Now You See Me 2, as well as in the indie film Bachelorette teaming up with Kirsten Dunst, Rebel Wilson and Isla Fisher.
Now a television staple, it becomes more crucial for Lizzy to take care of herself not just to look fantastic but also to be fit and healthy. For her role on Masters of Sex, the 34-year-old actress confidently shows off her body as part of her role and she doesn't have any problem with that. Her confidence radiates through her performance that she has since received critical applause for her work on the show.
As getting naked is part of her job since the show explores human sexuality, the actress needs to make sure she looks at her best and what other way to do that than to eat right and work out as regularly as she can. Basically, she's physically active, so that's already something that helps to keep her in shape. She engages in cardio exercises to keep her heart rate at bay and to ensure her stamina is in the right direction. Also, she hits the gym to exercise whenever she has time.