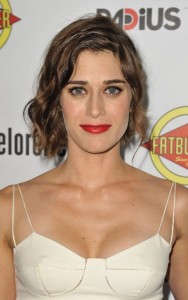 American actress Lizzy Caplan began her career during her late teens, specifically on television, appearing in four episodes of Freaks and Geeks, then on Smallville. She became recognized for her supporting role in the box office hit Mean Girls, which was released in 2004. Subsequently, she returned to television with notable roles in such TV shows as The Pitts, Tru Calling, and Related. After this, she had a starring role in the short-lived series The Class in 2005. Further recognition in 2008 came after landing a recurring character on the hit series True Blood. Around the same time, she received significant attention for her role in the movie Cloverfield. Two years later, she was then again noticed for her performance in Hot Tub Time Machine, released in 2010. Prior to this, she was starring in the short-lived TV program Party Down. Starring roles on the big screen became more frequent in the 2010s with performances in Bachelorette and The Interview. Then in 2013, she started starring on the television series Masters of Sex, for which she got a Primetime Emmy nomination in the lead actress category.
Standing at 5'4, the 33-year-old actress has established a grand career for herself. With her remarkable beauty and amazing talent, this isn't surprising. Another incredible thing about her is how she has managed to stay slim and fit throughout these years. Being in the show business must mean that there are several temptations that are not so healthy, but Lizzy was able to get through all of them and maintain her best self.
Aside from working out, the former Mean Girls actress stays in shape and maintains being healthy through clean and conscious eating. She loads herself up with vegetables, fruits, and foods rich in proteins all the time to ensure she consumes all the right kinds of nutrients. She also likes to eat fish, specifically mackerel either for lunch or dinner. For breakfast, she's mostly fond of yogurt. In addition, she incorporates cauliflower, macadamia nut oil, and parmesan into her meals.