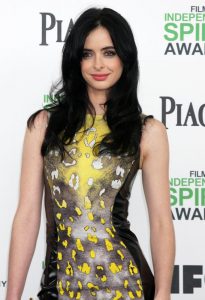 Former model-turned actress Krysten Ritter is now a Hollywood staple, thanks to her portrayal of the titular character on the Netflix series Jessica Jones, which she has recently starred in 2015. She was already a prolific actress on both the big screen and television, playing supporting roles in mostly romantic comedies like 27 Dresses, What Happens in Vegas, Confessions of a Shopaholic, and She's Out of My League. She has also played several remarkable roles on television, beginning on Veronica Mars as Gia Goodman, Gilmore Girls, and most notably as Jane Margolis on Breaking Bad. Her first main role was on the short-lived series Gravity and Don't Trust the B—- in Apartment 23. As mentioned, she now stars on Jessica Jones.
Being a former model, Krysten has been slender throughout her career in the entertainment industry. Turning 35 this year, it is also amazing how she was able to keep in shape despite her busy schedule. But she did because of her dedication and focus in achieving her goals. More interestingly, she's working hard like she's never worked hard before primarily because she's now playing a superhero. Good thing about it is that she's managed to undergo all the physical challenges that this role entails.
The actress herself she had to undergo hardcore boxing and weight training to prepare for the said role. Basically, she is already fond of spinning and Pilates but as Jessica Jones, she had to wear weight lifting gloves and pack on muscle, which, despite being hard at first, she managed she got into her regular workout routine. Her rigorous training seemed to have been worthwhile as she not only looks the part but also acts like the kick-ass character that she is. Not only did she get fit and lean for the role, she also looked at her best playing the best character there is on television today.