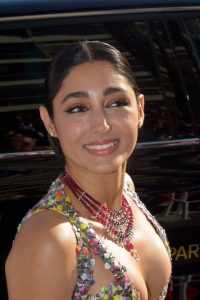 Iranian actress Golshifteh Farahani debuted in the 1997 film Derakht e Golabi (The Pear Tree). In the early 2000s, she became more active as she booked more movie roles in her country. In 2008, she made her first Hollywood appearance in the film Body of Lies, starring Leonardo DiCaprio and Russell Crowe. In the 2010s, Farahani further pursued an acting career abroad, starring in such international films as There Be Dragons, Just Like a Woman, and The Patience Stone, among others.
She later appeared in the French movie Eden and joined the cast of the Ridley Scott's movie Exodus: Gods and Kings. She became further known for playing the female lead in the movie Paterson opposite Adam Driver. In 2017, she played the role of Shansa in Pirates of the Caribbean: Dead Men Tell No Tales, as well as played a supporting role in The Upside, the American remake of the French film The Intouchables. After this, the actress had performances in the French movies Girls of the Sun, The Night Eats the World, and Arab Blues. In 2020, she starred alongside Chris Hemsworth in the Netflix film Extraction. This year, she starred as Aneesha Malik in the Apple TV Plus series, Invasion.
While Golshifteh Farahani spends most of her time traveling the world to work in movies, she makes sure that she takes care of her health by eating healthily. Because she's the kind of person who prefers all things natural, she also tries to integrate that practice into her diet, which is why she prefers mostly vegetarian food. "I prefer to eat mostly vegetarian, but I'm not strict. My mother is a raw foodist for 15 years now," said the actress.
She also finds joy in having her food grown naturally. She shared: "The places where I feel happiest are where I can pick what I eat from the earth. I think that is the most luxurious thing. For me luxury is not having private jets and houses, but to have a garden where whatever we eat is alive and has the energy of the earth. That for me is heaven."