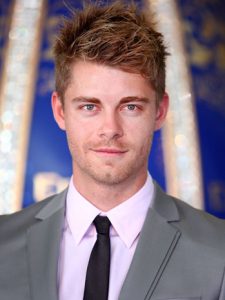 It was in 2008 that Australian actor Luke Mitchell got his start. He made his debut as Chris Knight in the soap opera Neighbours. At the same time, he also made his first movie in Performance Anxiety. Following this, he played Will Benjamin in the Australian series H2O: Just Add Water. He became further known when he starred as Romeo Smith in the show Home and Away.
Subsequently, he made his Hollywood debut in the series The Tomorrow People as John Young. He next starred in the ABC pilot Members Only. He later starred in the Hollywood films 7 Minutes and Mothers and Daughters. From 2015 to 2016, he played Lincoln Campbell in Agents of S.H.I.E.L.D. He went on to join the main cast of the NBC series Blindspot for its second season. He continues to star in the show until present.
Aside from working out, the Aussie actor also eats well in order to maintain his hot bod. Most of the time, he goes for healthy and well-rounded meals rather than processed foods. This helps him stay in shape and feel great inside and out as well. Of course, eating the right foods also helps with his energy and strength, which is something he needs considering he stars in an action-thriller series. In an interview, he got candid about his food/drink selections. Before working out, he chooses coffee for an energy boost.
He said: "I have a coffee from Coffee+Food on Melrose before I go to the gym. A shot of espresso is like a shot of adrenaline for me—it also helps me focus during a long day of shooting." And his go-to brunch? "Blu Jam and Lulu's Cafe are our go-tos. I'll get sourdough toast with avocado and poached eggs. Rebecca is taking a health-coaching course, so we make an effort to eat natural, unprocessed foods," he revealed.