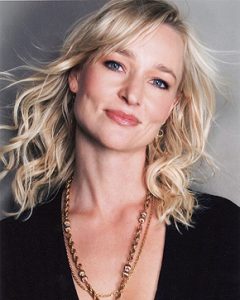 Actress Kari Matchett got her start when she landed roles in the television shows The Rez and Forever Knight. Her first notable role was as Sheila Ramone in Ready or Not. Her first movie was in 1998's Papertrail. She continued with guest appearances on the small screen with roles in Psi Factor: Chronicles of the Paranormal and Viper, among others. In the 2000s, she appeared in the movies Apartment Hunting, Angel Eyes, Men with Brooms, Cube 2: Hypercube, and Cypher. She also starred in the TV series A Nero Wolfe Mystery, followed by her role as Det. Elaine Bender in the Canadian series Blue Murder.
After this, she played Dr. Mariel Underlay in the US series Invasion. She became further known for her role as Lisa Miller in 24, Kate Armstrong in Heartland, Dr. Skye Wexler in ER, Jules in Crash, and Maggie Collins in Leverage. From 2010 to 2014, she played Joan Campbell in the US series Covert Affairs. Additionally, she has also appeared in the movies Civic Duty, The Tree of Life, and Maudie. This year, she starred in the movie Into Invisible Light. On television, her latest role was in The Good Doctor.
The 48-year-old actress stays in shape by eating right and working out. Being an actress, she trains her body to be strong and full of energy. That's why she exercises – not just to stay slender but to also maintain her strength and overall well-being. For her role in Covert Affairs, the actress upped her physical training to play her character. Doing physical work may have its challenges but it comes naturally for her simply because she's been active ever since.
"I've always been into sports and yoga and running. I actually study a martial arts self-defense program called Krav Maga. I can't quite say it's easy, but it's fun for me and I love to do it. They're actually letting me do some of that this year. It's cool," she said in an interview.