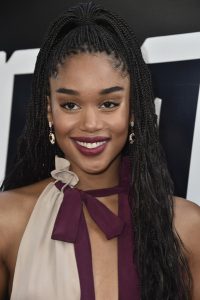 After deciding that she wanted to pursue acting, Laura Harrier trained at the William Esper Studio acting school. In 2013, she debuted as Destiny Evans in the reboot of the soap opera One Life to Live. After that, she landed a two-time role in the TV show Unforgettable. The following year, she appeared with a small role in the musical romantic film The Last Five Years. That same time, she had a role in the independent movie Galyntine.
Later, she played the part of Dorothy Cuda in the comedy feature 4th Man Out. Her next work was in the 2016 short film The Realest Real. Eventually, she landed her first role in a major Hollywood film — getting the part of Liz Allan in the superhero film Spider-Man: Homecoming released in 2017. With the success of the movie, Harrier gained mainstream notice.
The following year, she appeared in the film Fahrenheit 451, although her scenes were cut from the film. Nonetheless, she still had a notable role in Spike Lee's movie BlacKkKlansman. She will reprise her role as Liz Allan in the upcoming Spider-Man sequel Spider-Man: Far From Home. She will star as one of the leads in the upcoming movie Balance, Not Symmetry.
Harrier works out to keep herself fit and healthy. Still, she admits that she can be lazy from time to time, especially when she's in Los Angeles. She regains her motivation when she's in New York where she regularly visits Dogpound, a gym in the city.
Overall, she just makes efforts to keep moving and get herself attend classes even when she's in Hollywood. "Now, in L.A., I go to SoulCycle and barre class and hot yoga, but I bounce around," said the actress. "Also, I've been traveling so much that it's hard to keep anything together. I downloaded the Nike app to work out while I travel, and I think I did it once."