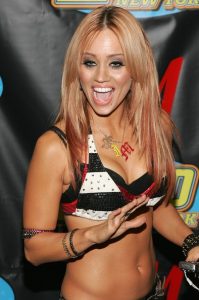 Actress and singer-turned-TV personality Kimberly Wyatt was first a dancer on the show Cedric the Entertainer Presents. She next appeared as a dancer in Nick Lachey's music video of the song "Shut Up". This led her to join the all-female group Pussycat Dolls in 2003. Wanting to pursue other projects, she left the group in 2010. She also simultaneously made several appearances in the movies.
This includes Starsky & Hutch, 13 Going on 30, and Poor Paul. She then gained wider recognition in the UK after becoming a judge in the British dance competition Got to Dance from 2009 to 2014. At the same time, she's also appeared on various TV programs in the UK, mostly as herself in reality shows and competitions.
She appeared as a judge/panelist in Live to Dance, Mad Mad World, and Sweat the Small Stuff. She went on to appear as a contestant in The Jump and Duck Quacks Don't Echo. In 2015, she competed in the cooking show Celebrity MasterChef. She came out as the winner. She currently serves as a judge in Taking The Next Step, as well as a co-presenter in All Over the Place.
The 37-year-old celebrity lives a healthy life by eating well. For starters, she starts her day right with a healthy breakfast. "I try to get up and eat by 8am and tend to start my day with two poached eggs on wholewheat toast. I sometimes try to mix it up with some avocado on the side," said Wyatt. When it's a busy day, she munches on chia seeds in the morning instead.
For lunch, she likes to keep it light, usually something like grilled chicken salad. "I love having sushi, especially salmon sashimi, or I'll choose an Itsu hip, humble and healthy salad, which has avocado, green beans, rice, rocket, carrot and edamame beans and a coriander and lime dressing," she added. For dinner, it's usually lean meat, fish, vegetables, and salad for her. As for her food indulgences, she loves "cupcakes, doughnuts and mince pies", which she eats every now and then.