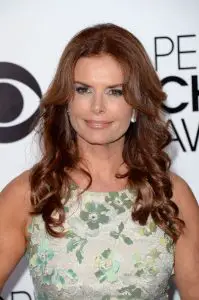 Hollywood star Roma Downey had her career beginnings in the 1980s, debuting on the soap opera One Life to Live. During the '90s, she first starred as Danielle St. Clair in the TV series The 100 Lives of Black Jack Savage. In 1991, he portrayed Jacqueline Kennedy Onassis in the miniseries A Woman Named Jackie. She later made her cinematic debut in the 1995 film The Last Word. During this period, she had roles in a couple of TV films, including Hercules and the Amazon Women where she played Hippolyta. However, it was her role as Monica in the CBS drama series Touched by an Angel that gained her mainstream prominence. She starred on the said show from 1994-2003.
She reprised her role in the short-lived spin-off Promised Land. Simultaneously, she starred in numerous TV films, including Borrowed Hearts, A Secret Life, The Test of Love, and The Sons of Mistletoe. Afterward, she played Reagan Gilancy in 3 episodes of The Division. She also had a role in the movie Funky Monkey. In the 2010s, she portrayed Mary in the miniseries The Bible, which she also produced. She also played Mother Mary in the 2014 film Son of God. Recently, she starred in the 2018 film The Baxters. Apart from her acting work, Downey is also a prolific producer.
The actress-producer is nearing her 60s but that doesn't stop her from looking youthful. She also has a fit body, which is really amazing for her age. According to the former Touched by an Angel actress, her slender figure can be credited to her clean diet plan. Of course, she's now at an age where she's naturally cautious about the foods she eats. So, she focuses on having organic foods only, or at least most of the time she does. She loves a plant-based diet as she avoids red meat and processed foods. Her source of protein comes from healthier sources, such as fish, chicken, soya, and broccoli. She snacks on fruits, nuts, and yogurts, and she always doesn't overeat.