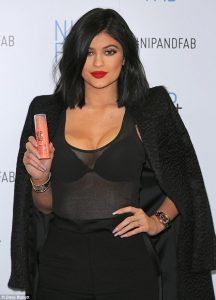 American celebrity Kylie Jenner made her beginnings on Keeping Up with the Kardashians. The reality showcased the life of her family. This has since gained widespread popularity, making it easier for her to enter other ventures in the industry. She has also appeared on other reality shows. These are Kourtney and Khloé Take Miami and America's Next Top Model. In addition, she appeared in 3 episodes of her father's show I Am Cait. She started her entrepreneurial venture with Kylie Cosmetics. She went on to make a clothing line with her sister, the "Kendall & Kylie".
Kylie doesn't always look as slender as she is now. She was slightly heavier prior. Thanks to constant dieting and exercising, she was able to achieve her ideal figure. She started to take her dieting more seriously after gaining 15 pounds. Though she admitted she loves fried foods, it was her lactose intolerance that was making her gain weight. For this reason, she knew she had to cut cheese and other dairy foods from her diet, which was a huge challenge for her.
In an interview, she said: "Well, I didn't realize I was lactose intolerant. I just became lactose intolerant like, this year." Initially, she didn't want to give up her favorite food. She said she was too young to worry about dieting. But she knew she had to deal with her condition. So, she started avoiding cheese and other dairies. She clarified it was for health reasons only. She eventually got the hang of it. "I'm working out and I'm eating a lot better," she added during the interview. She cited her half sister, Khloe, as her inspiration. According to her, Khloe found out she was allergic to coconut oil and managed to get rid of this from her diet despite being used to cooking everything with coconut oil.