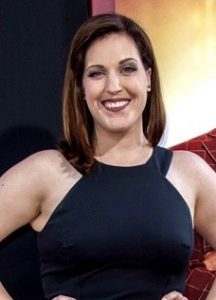 American actress Allison Tolman had her career beginning in the mid-2000s. She debuted with a small role in an episode of Prison Break. She next appeared in 4 episodes of Sordid Lives: The Series. After this, she had a role in the short film called A Thousand Cocktails Later. Her career became more prolific in the 2010s, first becoming known for her role as Deputy Molly Solverson in the acclaimed series Fargo.
She also guest-starred in The Mindy Project, as well as performed in the television film Hello Ladies. She next had one-time roles in Archer, Comedy Bang! Bang!, and Review. At the same time, she had roles in the feature films Addicted to Fresno, The Gift, and Krampus. She next played Rochelle in 3 episodes of Mad Dogs and appeared in 2 episodes of Drunk History. Her first lead role on television was in the ABC sitcom Downward Dog.
She next had notable guest roles in I'm Sorry, Mosaic, and Me, Myself & I. She recently guest-starred in Brooklyn Nine-Nine and Castle Rock. As of 2018, she stars as Mary Pat in the NBC series Good Girls. After guest-starring in The Twilight Zone, Tolman landed the role of Jo Evans in the new series Emergence. Her other film credits include Barracuda, The House, Killing Gunther, Family, and The Sisters Brothers.
In an interview, Allison Tolman got candid about her food choices and some guilty pleasures. During stressful times, she also admits to depending on some peanut butter to boost her mood. "When things are crazy and I need a pick-me-up, peanut butter toast makes me feel like a child, and sometimes you just need that comfort food," said the actress.
Nevertheless, she's cautious when it comes to eating on set, especially because of craft foods. "I have to be careful, because at craft services there will often be pasta, and I love pasta. But I cannot eat pasta with cream sauce midday because I will fall asleep!" she shared. As for the food she cannot resist? "I always say that my death row meal would be a cheeseburger," said the Emergence star.