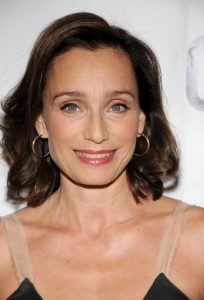 British actress Kristin Scott Thomas has a career spanning of decades. She started her film career in the 1980s with her debut in Under the Cherry Moon. She then got noticed for her performance in 1988's A Handful of Dust. In 1994, she rose to fame for starring in the film Four Weddings and a Funeral. For her role, she won a BAFTA Award for Best Actress in a Supporting Role. She later starred in the movie The English Patient, which got her an Oscar nomination for Best Actress.
She later starred in the films Mission: Impossible and The Horse Whisperer. In the 2000s, she had notable performances in the movies Gosford Park, Keeping Mum and The Golden Compass. She later starred in the French film I've Loved You So Long, earning her Cesar, BAFTA, and Golden Globe nominations for Best Actress. In the 2010s, she portrayed Mimi Smith in Nowhere Boy. She later starred in the features Salmon Fishing in the Yemen and Suite française. She recently starred in Darkest Hour, which got her a BAFTA nomination.
She may be nearing her 60s but the British actress maintains her health and fitness by sticking to a clean diet. This doesn't mean that she practices a strict diet though. It only means that she opts healthy foods rather than consume processed ones. Also with her age, it is important for her to be conscious of the foods she eats in order to stay in shape and healthy as well.
In general, though, the award-winning actress doesn't feel pressure when it comes to her weight. While she knows that the acting industry somehow judges actresses who are heavier, this doesn't affect her. In an interview, she said: "People were obsessed with weight as much then as they are today." She went on to say: "I also did not go on a diet. The weight fell off me when I married. I would never think of criticising anyone over their weight."