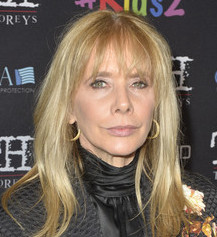 Rosanna Arquette first appeared in the 1977 TV movie Having Babies II. She next appeared in the miniseries The Dark Secret of Harvest Home. Her first starring role on the small screen was as Debra Miller in the NBC series Shirley.
On the big screen, she made her film debut in More American Graffiti. In the 1980s, she had performances in such films as Gorp, Baby It's You, The Aviator, and Desperately Seeking Susan, among others.
During this period, she also starred in many television movies. She landed more film roles in the 1990s, starring in Flight of the Intruder, Pulp Fiction, Crash, Buffalo '66, and Hell's Kitchen, to name a few.
The following decade, the actress played supporting roles in the movies The Whole Nine Yards, Things Behind the Sun, Big Bad Love, Dead Cool, Kids in America, Kids in America, and many more. From 2006 to 2006, she also starred as Nicole Varzi in the ABC series What About Brian.
She went on to play notable roles in the films American Pie Presents: The Book of Love and Peace, Love & Misunderstanding, among others. Her most recent work in the cinema were in Maya Dardel, Billionaire Boys Club, and Octavio Is Dead!. She also appeared as herself in the documentary You Cannot Kill David Arquette.
Her latest film role was in 2020's Love Is Love Is Love. Back on TV, she starred in the short-lived series Sideswiped playing the part of Mary Maple, as well as played Anna in the new series Ratched.
Rosanna Arquette is all about staying fit and healthy as part of her living a good life. "After about 40, your main job is to take care of your health — emotional, physical, spiritual," said the actress.
Part of aging is also realizing how her lifestyle directly affects her, which is why she has since followed a nutritional diet plan and an active lifestyle that involves regular exercise. "I also see the effects of what I eat and drink on my body and skin. Step back from the tiramisu!, the actress quipped.