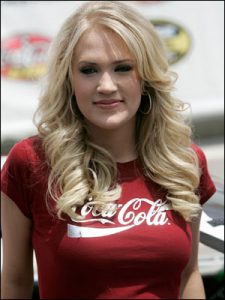 Carrie Underwood is an American singer whose rise to fame started when she was declared the winner of American Idol's fourth season back in 2005. Since then, she has become one of the most successful artists in any genre. After winning, she released her debut album Some Hearts with the hit songs "Jesus, Take the Wheel" and "Before He Cheats". For her debut, she won three Grammy Awards, including Best New Artist. Her second album Carnival Ride won her two Grammys, while the third one Play On was a huge commercial success. Her fourth, Blown Away, released in 2012, won her another Grammy. Just last year, she released her fifth studio album called Storyteller.
Standing at 5'3, Carrie stands at an average stature with her slender figure. Since joining American Idol years ago, people have known her to become so slim, which makes the strength and quality of her voice the more amazing because it comes from her tiny figure. Now a mother to one son with her husband hockey player Mike Fisher, fans became more curious as to how she was able to regain her old self after giving birth in 2015. For one, it's important for the singer that she knows where the food she eats comes from, so makes it a point to go to the supermarket herself at least once a week.
Also, Carrie believes that breakfast really is the most important meal of the day. For this reason, she makes sure she eats only healthy food for breakfast. For her, eating oatmeal or a tofu scramble is a fresh and tasty way to start her day right. Despite her discipline to only consume clean and healthy food, she also makes it a point to enjoy eating. "I eat to feel good and sometimes that means it's okay to indulge," the singer said in an interview. Also, from time to time, she'd have red wine to relax.