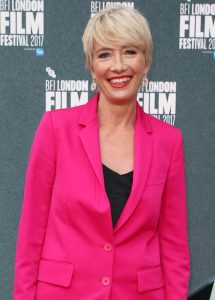 Award-winning British actress Emma Thompson started her career in 1989. She debuted portraying Catherine of Valois in Henry V. In 1992, her performance as Margaret Schlegel won her the Academy Award for Best Actress. She later earned Academy Award nominations for her roles in The Remains of the Day and In the Name of the Father. Shortly after, Thompson portrayed Elinor Dashwood in Sense and Sensibility, which she also wrote for the big screen.
For her work, she won the Academy Award for Best Adapted Screenplay. She was also nominated for Best Actress. In the 2000s, she starred in the ensemble film Love Actually and played Professor Sybill Trelawney in Harry Potter and the Prisoner of Azkaban. She went on to play the title role in Nanny McPhee and its sequels. More recently, she starred in Bridget Jones's Baby, Beauty and the Beast, and Johnny English Strikes Again.
This year, she stars opposite Mindy Kaling in the comedy-drama film Late Night. The actress will star as Agent O in the upcoming film Men in Black: International. Thompson has also worked on television. She recently starred as Vivienne Rook on the TV drama Years and Years. Thompson is one of the UK's most acclaimed stars, bringing her solid talent to Hollywood as well.
The acclaimed actress seems to be done with any kinds of diet. "Dieting screwed up my metabolism, and it messed with my head. I've fought with that multimillion-pound industry all my life, but I wish I'd had more knowledge before I started swallowing their crap. I regret ever going on one," she said in an interview.
However, back in 2017, it was reported that she lost a substantial amount of weight. This is all thanks to a diet strategy that doesn't involve eating too little or not eating at all. With the help of a fitness coach, Emma Thompson diet plan helped her drop two dress sizes by practicing calorie control, eating meals frequently, and doing resistance exercises.
This diet allowed her to have three meals and two snacks per day. The foods involved weren't the bland-type ones, too. She was able to have carbs, red meat, and healthy fats. This even included a glass of wine every now and then.