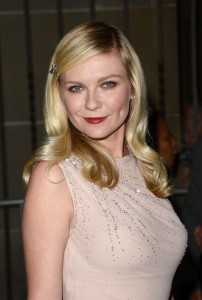 33-year-old Kirsten Dunst has been in the limelight since she was young courtesy of her memorable performance in Interview with the Vampire when she was only 12. It was so memorable she was nominated for a Golden Globe Award for Best Supporting Actress for her performance. Her prominence as a child actress continued with starring roles in Jumanji and Little Women. She soon transitioned to teen films and romantic comedies most notably in Bring It On. International success came in the 2000s with her portrayal of Mary Jane in Spider-Man trilogy.
Being versatile, Kirsten also starred in other acclaimed films, including Eternal Sunshine of the Spotless Mind, Elizabethtown, as well as starred as the titular character in Marie Antoinette released in 2006. She was also recognized and won the Best Actress Award at the Cannes Film Festival for her performance in Melancholia. Her most recent movies are The Two Faces of January and Midnight Special.
The stunner Kirsten Dunst is also known for her slender figure, which she achieves through working out and eating healthy. Interestingly, the Spider-Man actress eats five times a day instead of the usual 3-meal per day. This helps her avoid feeling unnecessary hunger. Through eating five times, she can consume light yet nutritious meals. The actress also focuses on getting proteins and complex carbs to make sure her body stays strong and healthy.
Furthermore, Kirsten practices moderation when eating. She recognizes the harm that sugar, salt, and foods high in carbohydrates can do to the body. The thing is, she doesn't totally cut herself from all this. Instead, she lessens her consumption. This way, she doesn't crave for such foods so intensely. The actress is also known for practicing Acid-Alkaline Diet, which is a method to remove toxins from the body. This requires her to stay away from sodas. Instead of drinking soft drinks, tea, and coffee, she drinks nutrient-laden green juice.