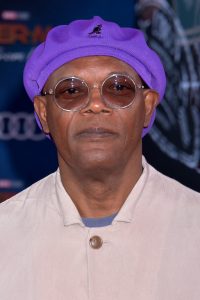 Hollywood actor Samuel L. Jackson's career spans five decades. Debuting in the 1972 film Together for Days, he landed small roles in numerous films during the 1980s before getting his breakthrough role as Gator in 1991's Jungle Fever. He then had roles in the films Patriot Games, Jurassic Park, and True Romance, after which he starred as Jules Winnfield in Quentin Tarantino's Pulp Fiction.
His next movie roles were in Die Hard with a Vengeance, A Time to Kill, The Long Kiss Goodnight, and Deep Blue Sea. Jackson worked with Tarantino again in the 1997 film Jackie Brown. He later portrayed Mace Windu in Star Wars: Episode I – The Phantom Menace, debuting his role in the sequel Star Wars: Episode II – Attack of the Clones. In the 2000s, his career only flourished even further. He starred in such feature films as S.W.A.T., Kill Bill: Volume 2, Coach Carter, and The Spirit, among others.
In the 2010s, he is best known for playing Nick Fury in the Marvel Cinematic Universe. Other film performances in the recent years include Django Unchained, Kingsman: The Secret Service, Barely Lethal, The Legend of Tarzan, XXX: Return of Xander Cage, Kong: Skull Island, The Hitman's Bodyguard, and Unicorn Store. He recently starred as Elijah Price / Mr. Glass in Glass, reprising his role from 2000's Unbreakable. He also recently played the lead in 2019's Shaft.
Samuel L. Jackson keeps in shape by incorporating exercise into his lifestyle. For most of his roles, he undergoes intense workout routine to prepare his body. Other times, he prefers to just relax. "I do pilates three times a week, weight training and conditioning three times a week and acupuncture and massage twice a week," said the actor. Whenever he gets some free time, he spends it playing golf.