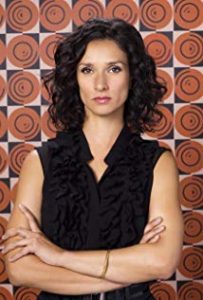 Indira Varma has been acting since 1996. She debuted as the lead in the English-language Indian film Kama Sutra: A Tale of Love. That same year, she also had her first TV role in an episode of Crucial Tales. Her next roles came the following year with performances in the films Clancy's Kitchen and Sixth Happiness. In 1998, she starred in the Pakistani-British movie Jinnah. Afterward, she played the role of Dr. Martine Nichol on the British miniseries Psychos.
Her career flourished in the 2000s, first appearing as Sasha on the TV show Attachments. She next played Sonali Ganatra on the TV serial In a Land of Plenty. She went on to have guest appearances on such shows as Rockface, The Canterbury Tales, and Love Soup. She later starred as Melanie Bellamy on the comedy show Broken News. From 2005 to 2007, she became known for her portrayal of Niobe of the Voreni on the historical drama series Rome.
At the same time, she also played recurring role Dr. Adrianne Holland on the Hollywood series 3 lbs, as well as appeared as Alisha Cole on the ITV series The Whistleblowers. In the 2010s, her television profile got more prominent. She played Zoe Luther on Luther, Ilsa Pucci on Human Target, George Duggan on Silk, Natalie Thorpe on Hunted, and most notably, Ellaria Sand on Game of Thrones. She next starred as Nina Suresh on the crime drama Paranoid and the miniseries Patrick Melrose.
Apart from her diet plan, the actress remains fit and healthy by trying to follow an active lifestyle. In an interview, she even shared that working out is one of her lifestyle essentials to make up for her love of food.
"I try, but my problem is that I love food, so it's a bit of a battle between 'shall I have that extra portion', versus, 'oh dear I need to fit in those trousers again, I better do a few squats', so, yes I do try to keep fit," said the actress.