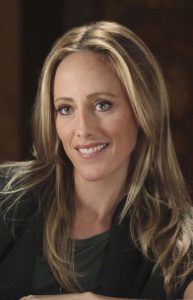 It was in 1975 that actress Kim Raver got her start in Hollywood. She started in the children's series Sesame Street. After her stint on the show ended in 1978, she took a long break from acting and only returned in the '90s. During this period, she mostly had guest roles on some television shows. She later got her break in 1999 after she began starring as Kim Zambrano in Third Watch. Simultaneously, she also started starring as Audrey Raines in 24, earning her further prominence.
She later starred as Kathryn Hale in the short-lived series The Nine. Shortly after, she played Nico Reilly in the series Lipstick Jungle. During the 2000s, she also performed in the films Martin & Orloff, Mind the Gap, and Night at the Museum. In the 2010s, she was best known for her portrayal of Dr. Teddy Altman in Grey's Anatomy. She still plays the said role up to present. This year, she also currently plays recurring character Andrea Frost in Designated Survivor, reuniting him with Kiefer Sutherland.
The busy actress who's also a mother of two maintains her fitness by working out. In an interview with Shape, revealed her workout routine. She explained: "For me, because I've been working out since I graduated college, I have to mix it up. But it's not just working out for health's sake, it's also a whole mindset for me. Yoga is really important for that. When I came back to New York and LA, I tried SoulCycle. It's incredible because it's mental and spiritual."
"But now that I'm filming over in London—I know there's one coming—but they don't have a SoulCycle. So, that could easily be an excuse to say, "Well can't work out!" But that doesn't work for me! I have a dog, he needs to be walked and I love running, so I pull out my running shoes," she added.