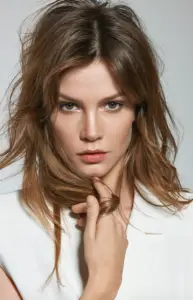 Sylvia Hoeks started her acting career in the Netherlands. Prior to acting, she worked as a model after signing with Elite Model Management at age 14. She first appeared on the cover of Elle Girl. Throughout her teenage years, she worked as a model traveling across Europe. In 2005, she made her acting debut with a starring role in the Dutch TV film Staatsgevaarlijk. That same year, she made her film debut in the Dutch movie Frankie.
She went on to appear in the Dutch films Duska, Tiramisu, The Storm, and Tirza. At the same time, she also starred in a couple of Dutch shows. Her first role in an English-language film was in the 2013 psychological film The Best Offer. Later in 2016, she made her Hollywood debut when she guest-starred in the US show Berlin Station as Claudia Gartner.
Hoeks then gained wider recognition for playing the replicant Luv in the 2017 film Blade Runner 2049. That same year, she starred in the Hollywood movie Renegades. After appearing in the film All the Devil's Men, the actress portrayed Camilla Salander in the action thriller The Girl in the Spider's Web. She will star as Queen Kane in the upcoming Apple TV+ series See.
Apart from her healthy diet plan, the Dutch actress maintains a slender figure thanks to her active lifestyle. Being an actress, she naturally is mobile. This allows her to practice cardio even when just working. Of course, she also exercises. "I love Pilates on the machine and I love yoga, but a lot of days it's just me walking my dogs," said the Dutch beauty. For her role in Blade Runner 2049, she upped the Sylvia Hoeks workout routine to develop her physique and strengthen her core. The actress also enjoys other outdoor activities when she has some free time, such as swimming and running.